Can anyone out there remember the days when there were less than three TV stations in the UK? Or only three radio stations (excluding Radio Luxembourg)? I can! Daytime viewing was a test card. Not only that, but TV programmes were black and white. In fact, I think most of my childhood memories are black and white, so perhaps the whole world was slightly lacking in hue!
Today, it is different. There are loads of TV stations to choose from 24/7.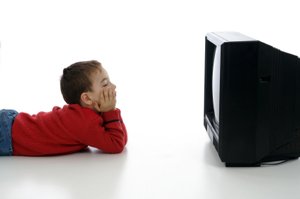 This is not necessarily a good thing, since most of them seem to be showing the same programme, but the fact stands that there are far too many lots of them. They are all in colour – and some have a very distinct shade of blue about them. Of course, you need a receiver of some kind, an aerial, cable or satellite dish and a TV. If you don't have a receiver, you can't see what's on. We cannot see the TV signal until it reaches and is decoded by the television, but we know it is there, and all we have to do is to flick the switch.
For the sin of this one man, Adam, caused death to rule over many. But even greater is God's wonderful grace and his gift of righteousness, for all who receive it will live in triumph over sin and death through this one man, Jesus Christ. (Rom 5:17, NLT)
Are you receiving? Do you have a strong signal? Are you tuned in to the right channel? God is broadcasting his wonderful grace and gift of righteousness all the time. Just like the TV signal, we might not be able to see it, but we should know that it's there. All we have to do is flick the switch. That is when things start to happen. I always think that TV tends to nullify us – we just sit there and watch it – and I tend just to watch the news. But it is totally different when we receive God's signal – because then we start living in triumph! Not just some of us, all of us. Not just maybe, will. And his news is always the good news.
So, no matter what receiver you are using, make sure it is switched on, eh?